Which seat do you take on the learning tandem?
The tandem takes centre stage in illustrating a key question in the partnership of learning:  which seat do each of us give our learners and which do we take for ourselves?
The analogy formed part of Marcia Baxter Magolda's talk at a recent Lifewide Learning event in London, where the conference artist illustrated her thoughts.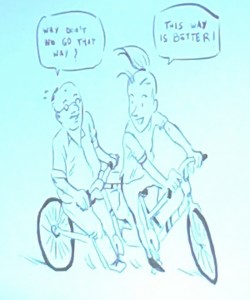 Professor Magolda asked the question of academics and institutions alike – which seat do you give your learners?
On the tandem, she reminded the audience, the person at the front directs the learning whilst the one at the back gives fuel in terms of supporting power and impetus. It reflects well the partnership of learning and the role of the academic in 'transformational learning.' Here the learner is empowered to develop knowledge through employing their own skills to research and reflect.  In this way, through effective learning partnerships, the learner learns how to steer (self-author) their route through life with the support and impetus of the back-seat academic.
Dr Magolda's longitudinal study following students into and beyond university education over 25 years is one of the most established such research projects. It has led to her developing learning partnership and self-authorship theories.
Taking a back seat is in her view, a powerful position to be in, and not one in which we can coast if we are developing independent, focused graduates.