Awards raise profile of teaching in academia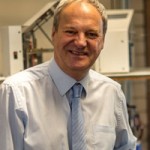 Loughborough University's newest National Teaching Fellow has highlighted teaching awards as a key driver in developing academics' teaching careers.
Speaking at the 2014 Teaching Innovation Awards, Dr Peter Willmot from the Wolfson School of Mechanical and Manufacturing Engineering  talked of his delight when teaching received international recognition for developing researchers and engineers.
Pro Vice Chancellor Teaching, Professor Morag Bell said the prestigious national award from the Higher Education Academy recognised Dr Willmot's work in developing the global profile of engineering teaching.
Earlier in his career Dr Willmot was the winner of a teaching award.  
Teaching Awards began at Loughborough University in 2005. Since 2012 when innovation became a key factor for winning projects, almost £60,000 has been awarded to 19 projects across 9 schools  and departments. The projects have impact for future practice enhancement not only within Loughborough University but nationally, and in some cases internationally.
Past projects have led to for example, developing more efficient assessment practices, new e-learning tools, student-led curriculum development, improved understanding of feedback and the UK's first student-led, not-for-profit publishing house.
The 2014/15 Teaching Innovation Award winners and their projects in alphabetical order are:
| | | |
| --- | --- | --- |
| Name | Dept. | Project title |
| Marcus Collins / Catherine Armstrong / Thoralf Klein / Paul Maddrell | SPG | Dual Mentorship and Peer-Assisted Learning in History Dissertation Design |
| Sheryl Williams / Richard Blanchard | EESE | An evaluation of the impact of a remote laboratory on student learning: using qualitative and quantitative measures |
| Jonathan Millett | SPG | GUMCOM – Geography Undergraduate methods Compendium: providing advice on methodology when and where it's needed |
| Abby Paterson | LDS | Enhancing students' understanding in Computer Aided Design workshops using low-cost, portable eye tracking |
| Vicky Lofthouse | LDS | Carbon footprinting for designers: embodying environmental sustainability in our teaching |
| Mark Jepson / Nicola Jennings / Simon Hogg | AACM  & SCI | Understanding the Art of Flipping |