#technoparticipation – practice-as-research
This week Loughborough's active technology enhanced teaching practice features in an conference at Brunel University. 
Lee Campbell from the School of the Arts, English and Drama is presenting and creating research around his Teaching Innovation Award (TIA) project looking at how Skype and similar technologies can develop richer professional learning communities.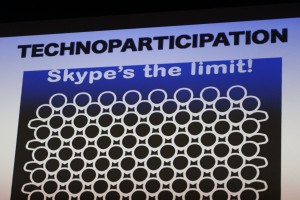 Here, in the first of the blogs from TIA projects, Lee outlines how colleagues in Loughborough's campuses can both support and get engaged with this project. If you want to use, or are using Skype in your teaching, do share your practice with Lee via his Loughborough email or via Twitter #technoparticipation
"With the support of a Loughborough University Teaching Innovation Award, I am currently engaged in a period of practice-as-research. This aims to generate new knowledge about how teachers and learners may collaboratively use Skype and advance how it may interface with other technological tools in order to expand the possibilities of the digital classroom encompassing different forms of participation and improve both teacher and learner's digital literacy.
"I aim to play with 'online-ness' as a dynamic liminal space that renders the human body as transgressive, being neither wholly present nor entirely absent and uncover and exploit Skype's performative properties to explore what participation and social communication may mean in relation to concepts relating to terms including  'embodied', 'disembodied', 'virtual' and 'physical' etc, as well as develop my term techoparticipation, drawing together aspects of Performance within pedagogy and inserting these into the digital classroom. I am committed to helping students engage with multiple technologies to improve their digital literacy and using the learning environment as a space in which to not only reflect upon practice but to produce it.
"I am currently drawing together different practices around Loughborough University, of teaching staff using Skype in the Design School (Dr Ksenija Kuzmina and Dr Erik Bohemia), Sport, Exercise and Health Sciences (Dr Borja García-García), Mathematics Education Centre (Dr Stephanie Thomas and Dr Barbara Jaworski), IT Services (Richard Goodman) and the School of Electronic, Electrical and Systems Engineering (Dr Sheryl Williams) and I am on the lookout for more staff. So do get in touch!  Dissemination events of my project have been held at Nottingham Trent University and Brunel University."
Keep up to date with the project using twitter hashtag #technoparticipation