Gathering mid-module feedback with Vevox
Loughborough University's centrally supported student response system, Vevox, allows staff to create engaging classes through real-time polling and live discussion, but it also contains a survey feature that staff are starting to use to gather mid-module feedback.
Creating a survey provides more time to act on valuable feedback from students and implement changes before module updates are completed in Spring. It has been used within the School of Business and Economics to gather mid-module feedback on all their final year modules.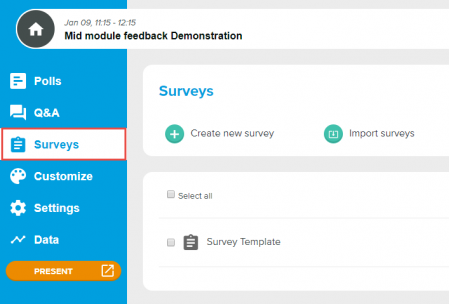 One of the key advantages to Vevox is that it's very easy to use and quick to setup.
How to create a Survey
Register for a Vevox account (see the link below)
Create a new meeting in the Vevox dashboard
Create your survey questions
Start the meeting running
Provide students with the meeting ID
If you require any support, you can contact the Centre of Academic Practice for guidance on how to implement Vevox Surveys for an individual module level or across a School.
See a survey from the student perspective
We've left a survey running so you can have a look on your own PC/phone. Go to https://vevox.app/#/ and enter in the meeting ID 164-988-808.
Register for a Vevox account and find out more
https://www.lboro.ac.uk/services/cap/projects/voting-systems/