Recording and rewarding student experience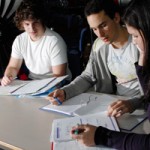 In a bid to ensure its graduates are job ready, Keele University has recently introduced a 'development strand' to complement the academic curriculum. Facilitatated by a review of degree structures at the institution, the 'development strand' encourages students to reflect on their personal learning and evidence their development throughout their studies.
Rather than a set of aspirational graduate attributes https://blog.lboro.ac.uk/teachingandlearning/?p=285 , the development strand at Keele enables students to evidence their skills development and gain accreditation from the Institute of Leadership and Management for their efforts.
For a fuller report see
http://www.guardian.co.uk/higher-education-network/blog/2013/jan/22/student-development-university-curriculum-design