Audiovisual citation guidelines launched today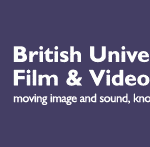 Have you ever wondered how to cite a television advert? Or what about an extra from a DVD? Do you ever need to provide advice to students or contributors about how to reference audiovisual content within their own work? The British Universities Film & Video Council (BUFVC) has today launched a pioneering set of guidelines to help answer all these questions and more.
Despite the exponential increase in the use of audiovisual material in teaching, learning and research in higher and further education, existing guidelines for the referencing of moving image and sound are often insufficient as they are based on standards developed for the written word.
The newly launched guidelines are practical, accessible and applicable to a wide range of different users across all disciplines. They encourage best practice in citing any kind of audiovisual item and cover film; television programmes; radio programmes; audio recordings; DVD extras; clips; trailers; adverts; idents; non-broadcast, amateur and archive material; podcasts; vodcasts; and games.
In the era of YouTube, podcasts and vidcasts it is crucial for students, researcher and academics alike to be able to cite these sources clearly and ensure references can be traced back unambiguously.
A free interactive version of the guide is available to download from the BUFVC website: bufvc.ac.uk/avcitation/guidelines
[Adapted from BUFVC press release 03/04/13]