Teaching Innovation Awards Dissemination Event 2013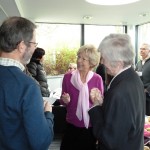 Friday saw the Teaching Innovation Awards Dissemination Event 2013. The event was held to celebrate the completion of the projects originally awarded in 2012 and completed by July 2013. The lunchtime event began with an introduction from the Pro- Vice- Chancellor (Teaching) Professor Morag Bell. The seven winners then gave short summaries of their projects with findings and implications in 5 minute presentations. Projects included: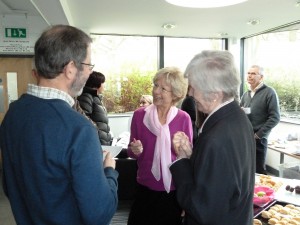 – Dr Alexandre Christoyannopoulos: SSPGS/ PHIR "Student Buddies: Developing a Sustainable Peer-Mentoring Scheme in Politics, History and International Relations"
– Dr Thomas Jun & Dr Thomas Page: Design School "Lego-based learning initiative for systems design and ergonomics teaching – efficiencies in teaching through the use of technology (Lego Mindstorms NXT: programmable robotics kit)"
–Dr Robert Knight: School of SSPGS/ PHIR "Linking the local to the international: embedding oral history and eyewitness accounts into the curriculum"
– Dr Debra Lilley, Dr Val Mitchell & Ian Storer: Design School "Electronic Group Logbooks for Design Students: Creating Efficiencies in the Assessment of Visual Coursework"
– Dr Hilary McDermott & Fehmidah Munir: SSEHS "E-Qual: Developing a reusable e-learning object for efficient teaching of qualitative coding"
– Dr Alistair Milne: SBE "Using Learn Wikis for discussion and development of multifaceted topics by a large enrolment class."
– Prof Chris Szejnmann: SSPGS/ PHIR "Transferable technology and interactive and learner-centred activities in the History programmes"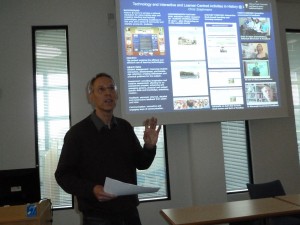 Being fairly new to the Teaching Centre I had heard a lot about the Teaching Innovation Awards and had a rough idea of the kinds of things taking place, but this event really opened my eyes as to how much these awards can mean to the University, with good practise in these projects being shared. There were a number of the initiatives from the awards that I felt could be replicated in other programmes and even across the University.
In addition I noticed a theme running throughout the projects that is close to my heart- student engagement. Many of the projects had either an end goal of increased student engagement or this had been a product of the project without being the main aim to begin with.
I personally really enjoyed the dissemination event, the turn-out was great and I look forward to learning more about this year's award winners and the 2014 applications.
A big thanks to Dr Katryna Kalawsky and Dr Diane Beale for organising the event.