HEA STEM workshop, 22 January 2014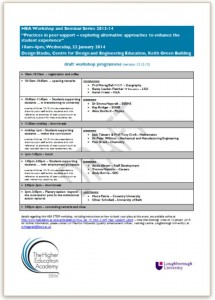 Further details regarding the HEA STEM workshop on Practices in peer support – exploring alternative approaches to enhance the student experience, which we are running in CEDE's Design Studio here at Loughborough University on 22 January 2014, are now available online.
Peer support sees students supporting other students in a number of different ways during the course of, as well as in support of, their studies. Three of these approaches to peer support will be explored during the course of this HEA STEM workshop, namely students supporting students: (1) in transitioning to university; (2) within the curriculum; and (3) with employment prospects.
In addition to a series of short presentations by students and/or staff from subjects ranging from Mathematics to Engineering, from Science to Psychology, and many more in between, this workshop will also be drawing upon contributions from Moira Petrie (Coventry University) and Oliver Schofield (University of Bath). Information regarding how to book your place at this HEA STEM event is available online.